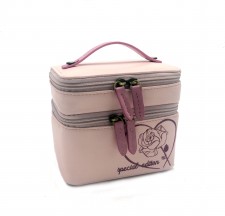 City of Industry, California, April 22, 2016 (Newswire.com) - Angelina's Palace (AP) redesigned its popular double-compartment jewelry case to make it a perfect gift for mothers.
In snow white and decorated with a pinky rose pattern, the case has all the sweet features for a sweet day. Apart from its look, it works just like the EIGER Double Compartment jewelry case.
As its name indicates, it has two spacious compartments. The upper space holds 12 earring stays and one ring stay. Each stay could hold more than one earring or ring. The lower (main) compartment has 12 medium-size pouches and four small-size pouches that are good to store jewelries other than earrings and rings, such as necklaces, bangles, hairbows, etc.
The case, as all of its predecessors, boasts superior wax leather zippler pullers and handles, as well as coated metal that doesn't rust.
A woman's love for her child is like nothing else in the world. AP believes that mothers deserve the best of all.
So, buy an AP jewelry case for her with all the grace, beauty and usefulness! The pattern, the design and the functions make the case a perfect gift for the woman who has been caring for you the whole life. Now it's time to treat her with something she wants – a case that stores all her treasures and memories, and makes cleaning and organizing easier. On this important day, AP wants every mother to have a good rest, and enjoy a good time with their sweeties.
Angelina's Palace is a designer, professional producer of jewelry cases, makeup boxes, purse and travel organizers based in the City of Industry, California.
The case is available online for $58. For other patterns of the EIGER Double Compartment, check out EIGER Double-Compartment Jewelry Case S.
Source: AP LIFESTYLE & ACCESSORIES INC.
Share: