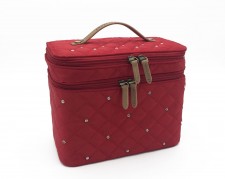 City of Industry, California, May 5, 2016 (Newswire.com) - ​​Beauty experts and makeup professionals now have a once-for-all solution to their makeup items - the KEMI Double Compartment Beauty Case by Angelina's Palace (AP).
As women's closets grow bigger, AP thinks that their beauty cases should grow bigger too. After all, who doesn't like an additional perfume, or a different shade of nail polish? Also, for beauty experts and makeup professionals, a bag big enough to contain their various makeup items is always what they're looking for.
Instead of buying small cosmetic cases, and throw them away when they aren't big enough for increasing number of items, AP comes up with an ultimate solution: a big yet graceful case enough for most occasions. That's what inspired the KEMI.
A bit on the technical side: the upper compartment of the KEMI contains three detachable brush stays that can hold up to 18 brushes. The lower compartment has only one inserted pocket, which has eight stays of the size of a lipstick, two side pouches and four inner pouches for whatever one wants to carry. The lower compartment is very spacious and efficient with these small pockets.
The case is decorated with leather logos of AP. As a designer producer of jewelry, makeup and purse organizers, AP pays great attention to quality and details. The upper compartment is protected by a PVC cover that prevents frictions of items. The handle and zipper pullers are made of top quality leather, and the metal accessories are non-rusting.
The KEMI comes in nine different patterns. The four Memory series and the Diamonds are good for beauty professionals, and the floral patterns are perfect to add a casual, sweet touch.
AP has other product lines of regular-sized beauty cases for daily use or for travel. Please check out http://www.angelinaspalace.com/ for more.
Source: AP LIFESTYLE & ACCESSORIES INC.
Share: